By Scott Leggett 
December 9, 2020
Nine months into the COVID-19 pandemic and cases are soaring. As we head into the colder months, the forecast is grim, with an estimated surge of COVID-19 hospitalizations nationwide. The pandemic has made people pause and re-evaluate their careers, lifestyle choices, social circles, and even their healthcare. At a time when our health is most important, people must prioritize the care they need and identify the safest site for receiving their care. When it comes to surgery, the safest location is an outpatient surgery center or OSC – commonly referred to by the industry and Medicare as ambulatory surgery centers or ASCs.
With the overwhelming need for hospital beds for COVID-19 patients, operating in an OSC setting is the clear choice for elective surgeries. In response, Hospitals across the country are beginning to suspend elective surgeries as these beds are a necessity for COVID-19 patients. Underscoring the importance of safe patient care and health protocols amid a pandemic, the need for these very safe OSC facilities is essential.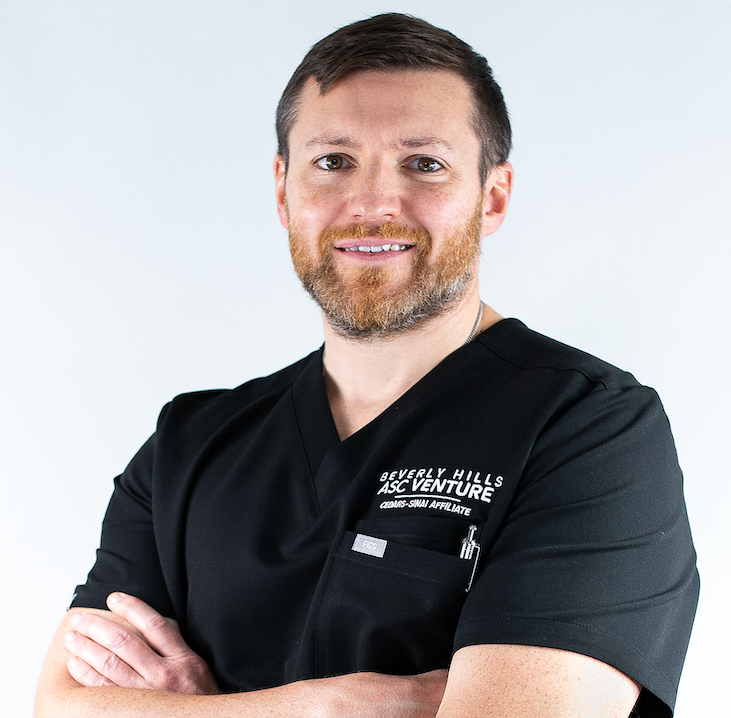 Dr. Michael Hannon, a double board-certified Orthopedic Surgeon, was forced to re-evaluate his practice once the COVID-19 shut down occurred, tapping the breaks on any hip and knee surgeries until mid-June. Fortunately, Dr. Hannon was able to use the time to help develop a Robotics Total Joint Program and the comprehensive outpatient protocols to support it at Cedars-Sinai Precision Ambulatory Surgery Center, where he is migrating medically appropriate partial and total knee replacement cases. Located in the heart of Beverly Hills, the center was recently ranked among the Top Ten Best ASC in the US by Newsweek and is part of a network for four ASCs treating patients across all specialties.
"Patient care is important," notes Dr. Hannon. "People are missing routine screening tests, and, unfortunately, they are not getting all the care that they need. If you're an end-stage osteoarthritic patient, we can perform a safe procedure at our OSC despite the fact that we are in the middle of a pandemic. We've developed the appropriate protocols to make these elective surgeries streamlined and as safe as possible."
To simplify the billing process that comes with elective surgeries, Dr. Hannon teamed up with Global 1 to help provide one, up-front price for the patient in an outpatient setting via the Global 1 bundled payment program. "In my opinion," says Dr. Hannon, "for patients that don't have comorbidities, outpatient centers can provide patients a superior experience. Studies have confirmed this to be the case. The Global 1 program provides price transparency and reduces financial anxiety from the procedure."
According to Dr. Hannon, "there has been a huge impact on doctors in terms of the flow of patients. Our patient volumes are still down 15-20 percent. Elective healthcare has been significantly affected." Needless to say, the ability to continue to see and care for his patients in a safe outpatient setting has been vital. Patients and doctors have always put a great deal of trust in outpatient surgery centers to provide high-quality service with a high standard of care.
When the shutdown was enforced in mid-March, Dr. Hannon knew he could not just sit around. "I didn't stop working because our patients still needed care," says Dr. Hannon. "It gave me the final push to help an outpatient program, and I am pleased that it has come to life."
Dr. Hannon has also incorporated robotic surgery to assist with his outpatient knee replacement cases. This technology helps improve outcomes as it provides the surgeon with increased accuracy and consistency.
Another benefit to outpatient surgery is the patient returns home the same day as the surgery. Allowing the patient to recover in the comfort of their own home in a clean and safe environment is key to solving patients' needs for medical care and potentially slowing the spread of COVID-19. Outpatient centers do not treat sickly people, such as patients with COVID-19 or other infectious diseases.
Finding the silver lining, Dr. Hannon says, "Though COVID-19 has been terrible for so many people, there is some good that comes out of negative situations. Because of the pandemic, we were able to take the time to launch this extensive program. It has given me the time to research, develop, and give my full attention to what was needed. I wouldn't be surprised if COVID-19 cases continue to increase and elective surgeries at hospitals are halted again. Thankfully, we can continue to provide some needed care in an outpatient setting."
_____ 
Scott Leggett is co-principal, Global 1. With more than two decades working in orthopedics, Leggett's experience includes founding a network of independent, physician-owned outpatient surgery centers. In addition, he served as the president and board member of the California Ambulatory Surgery Association (CASA). Find Scott on LinkedIn.
Global 1– As the leader and largest administrator of outpatient surgery center-based perspective and commercial bundled payments in the nation, Global 1 provides an innovative, value-based surgical delivery and payment program. By aligning the facility, surgeon, and anesthesiologist, the Global 1 Bundled Payment Program supports high-quality outcomes in a lower-cost setting, providing a single transparent price for an episode of care. More than 70 bundled procedures are available within specialties including orthopaedics, spine, general surgery, ear/nose/throat, and women's health.
https://g1surgery.com/wp-content/uploads/2020/12/PACS_7.jpg
647
1150
positraction2
https://g1surgery.com/wp-content/uploads/2019/06/G1-logo-surgery-better-01.png
positraction2
2020-12-09 09:00:28
2020-12-09 09:00:28
The COVID Challenge for Orthopaedic Surgery – One Surgeon's Response